Good news, everyone. I didn't die of tuberculosis! Plus, I got to see Tron: Legacy one and a half times. Wewt.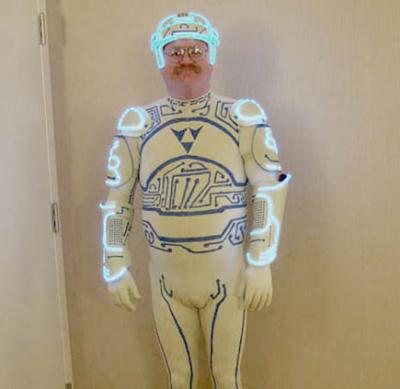 This guy looks like he's packing about one and a half trons as well.
With that out of the way, let me introduce the House of Paincakes three newest and coolest members:
New Member Monday
Colonel Shofer's Mild OCD Model Blog
Keywords: Too old for promotion, Painting, Modeling, Warhams.. Privateer Press.. wolves... horcruxes?
Terran Forge
Keywords: 40k, 40k painting, 40k modeling, 401k
The Wargate
Keywords: Warhammer Fantasy, Warhammer 40,000, Necromunda, Mordheim, Lord of the Rings Strategy Battle Game, D20, D&D, World of Darkness
And now a winning essay. It was a tough call and even though
The Wargate
took the time to make a list of proper keywords (a task this disease addled author appreciates), the essay win has to go to
Colonel Shofer
:
Do me, do me now.

Thank you.